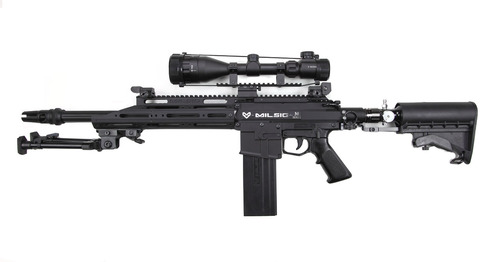 Die Milsig M17 DMR Version ist die Weiterentwicklung der Limited Edition Paradigm PRO die in 2011 als erster MilsigFSR Markierer released wurde. Auf dieser Basis wurde weitergearbeitet und unter anderem um machined receiver, foregrip, 400mm Rifled FSR Marksman Lauf, zwei teiliges back Set für den Lauf, 18 Schuss FSR Magazin (anstatt 10), … erweitert. Es handelt sich um einen Sniper Markierer mit den damit entsprechenden Eigenschaften in Gewicht und Länge. Die Verarbeitung wirkt wie bei der XDC Variante hochwertig. Das Magazin Release ist ebenfalls analog zur XDCVersion. Um bei diesem Markierer über die verschiedenen Bauteile wie Scope, Riser und Lauf einiges zu sagen war die Zeit wesentlich zu kurz. Einen sehr guten Eindruck hat der bei dieser Version mitgelieferte Regulator mit on/off Funktionalität und der Möglichkeit nach dem anschrauben der Flasche die Anzeige noch auszurichten, gemacht. Fazit: Ein reiner Sniper Mag-Feed Markierer der ohne Umbau für einen anderen Einsatz nur sehr schwer zu handhaben ist.
Spezifikationen:
Länge: 107cm Gewicht: 4.3Kg Billet 6061 T6 Aluminium, 2 pin maintenance take down, Mechanical Full Auto, Interchangable AR-15 style grip, AR-15 style bolt reset handle, Fire selector switch.
Lieferumfang:
Barrel Plug, 2x 18 round First Strike compatible Squarehead magazine, MATS 13CI compatible buttstock, 13CI 3000PSI HPA tank with MILSIG NODETM air regulator, CNC Aluminum Flip Up Sights, MILSIG lightweight adjustable riser rail, MILSIG Marksman barrel back set, 400mm MILSIG Marksman rifled barrel, LIMITED EDITION DMR Muzzle Brake, LIMITED EDITION Aluminum shroud with adjustable rail positions, Removable Polymer and Metal Accessory rails, CNC Aluminum Bipod, Extended hard shell neoprene case with carrying strap attachments.
Für weitere Produktinformationen wenden Sie sich bitte an unseren Shop. Vielen Dank für Ihr Interesse.